Curriculum
We pride ourselves on providing a broad and balanced curriculum to promote the children's learning, personal growth and development.
As well as a strong emphasis on the academic subjects and a particular focus in English, Mathematics and Science, from Reception our pupils have a creative and rich curriculum with specialist teachers for Languages, PE/Games, Music, Computing and Science. Verbal and Non Verbal Reasoning skills are taught from Year 1 to ensure that the children are fully prepared for selective grammar and independent school tests.
Our Approach To Teaching
We expect West Lodge children to:
Be active, reflective learners with learning habits which will set them up for life.
Share in an ongoing dialogue with their teachers about their learning.
To have a genuine spirit of inquiry which will set them up for the rest of their lives.
Children are encouraged to take responsibility for their own learning; they are taught from Nursery to evaluate their work and understand where and how to improve.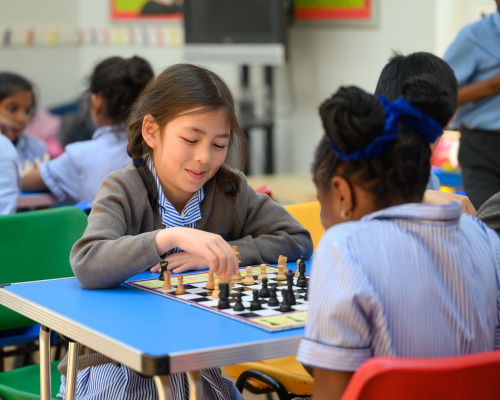 We are a Growth Mindset School - click here to learn more.
Double Click To Change The Link
Learning and teaching – Nursery, Reception and Years 1 and 2
The curriculum has key skills in literacy and numeracy at its core, with daily lessons in each. Maths and literacy skills are introduced with fun, exciting and interactive methods. Early reading skills are developed through the use of our phonics scheme and language development is the focus for all aspects of learning.
This is enhanced by exciting child-centred topics and discrete subjects that encompass Science, Humanities, Art and Design and Sport (including the seven areas of learning in EYFS).
From the onset children are encouraged to have ownership of their learning and to share ideas and skills with each other. The priority is, however, to always ensure learning is fun and exciting.
Learning and Teaching Years 3-6
In Years 3-6 the curriculum is broad but balanced. Maths and English are naturally the key subjects and great emphasis is placed upon developing strong foundations in the key concepts and skills so that children are then able to independently use and apply their knowledge. Through our text based approach for teaching English, which promotes reading, the children become confident readers and writers and embrace opportunities to be challenged creatively.
Following its introduction in Years 1 and 2, Verbal and Non Verbal Reasoning are taught in preparation for entrance exams to grammar and other selective schools which are taken in Year 6.
The children also benefit from specialist teaching in Music, Computing, French and Spanish, Food Technology and Sport. This increases in Years 5 and 6 with the Head Teacher delivering Humanities lessons and Art and Science being delivered by specialists. A comprehensive range of clubs brings further opportunities to explore interests and hone skills – from chess to cricket, website build to gardening.